eBait™ Insurance Industry Software Design Solutions ~ completely customizable & highly scalable!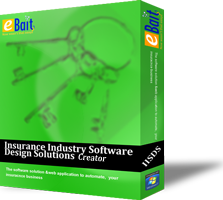 If you're an agent, broker or start-up agency in need of website, intranet, or software application design and hosting services eBait™ has the experience and expertise to deliver. Our team can interface with e-commerce services, infrastructure exchanges, carrier systems, agency systems, BPO solutions and provide custom software design for life insurance, annuity, property & casualty, multifamily and renter's insurance companies alike.
When you need a software solution or web application to automate, expedite or improve a process an eBait software design engineer is the answer. We deliver bug-free, on budget and on time software, web and mobile applications. For a free one hour software consultation contact us today!